Off-Grid Power Systems Residential or Commercial Remote Locations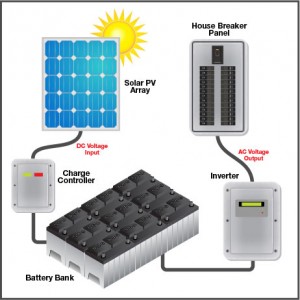 Off-Grid Power Systems are systems that supply electricity to equipment when there is no utility power available. These systems are usually found in locations such as remote homes, cabins, fishing huts, remote telecommunication towers, scientific monitoring stations, Marine buoys and barges, etc. Most of the time these systems will have a battery bank for storing of energy that use the power the equipment and lighting (day or night). The battery bank is recharge from the solar PV panels, wind generators, Hydro generators or a hybrid combination of these.
Alternate Energy Company is able to help design and supply all the equipment necessary to meet the needs of your off-grid remote location. Typically the demands on these remote locations require more specialized equipment that will be able to survive the weather conditions and exposure. We have the expertise in understanding these requirements and have the available equipment to meet the needs.
We have a set of standard packages designed to power up a complete off-grid homes or cabin. These packages include the battery bank, AC/DC electrical panel, ceiling fans, lights, solar panels and wind generator (optional).
Our installation services are offered all across South Florida (Broward, Dade, Palm Beach) and the Caribbean Islands including The Bahamas, Barbados, Haiti, Puerto Rico, Jamaica, Trinidad and Tobago, etc. Please contact us for more information.