SolarWorld Solar Panels Made In America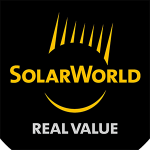 SolarWorld Solar Panels are designed and manufactured to the highest standards of quality, performance and durability.
SolarWorld create sophisticated solar technologies designed to produce clean energy for at least 25 years, even in some of the harshest weather conditions like blizzards, high winds, hail and coastal sea spray.
All Solar Is Not Created Equal
SolarWorld's nearly 40 year experience, knowledge and trusted partnerships have helped deliver renewable, reliable power, and specially quality products to American homes and businesses.
SolarWorld have built numerous quality steps into every stage of their product development and manufacturing. This proprietary quality process is known as The SolarWorld Standard.
As a SolarWorld Authorized Installer we are more than pleased to offer a variety of high-performance, superior quality, solar panels MADE IN AMERICA.
Learn more about SolarWorld's commitment to quality!