Caribbean Home Solar PV Grid-Tie System and Battery Back-up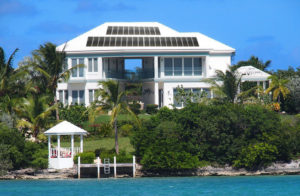 Caribbean Grid-Tie with Battery Back Up Solar PV System – Living in the beautiful Caribbean could mean being without power for hours or even days, specially in the rainy seasons when power outages are very common. Living without power for short  periods of time is not going to kill you, but if you are accustomed to have all your electronics and internet "always available" it could be an inconvenience and a disappointment.
Here is a simple solution that is immediately available… Install a prepackaged pre-designed 10.5 kW Solar PV Grid-Tie Battery Back Up System to  your house. Install it yourself or we can perform the installation for you complete with system commissioning, instruction and start-up.
The system consists of salt tolerant durable solar PV panels, fully programmable pre-wired grid tie inverter/charger (programmable to block energy flow-back to your utility supplier should it not be allowed), controllers, wires and most importantly the most advanced green energy storage battery system. Variations of this package are also available so please inquire.
This designed and prepackaged system can be installed on to most homes solving their energy disruption and power outage problems. Results are improved quality of life without the need for maintenance, excessive noise or refueling requirements as is typically encountered with old-fashioned generator systems. The system will provide energy for 25+ years with battery storage of 10-15 years lifespan.
If you want to learn more about the system and to receive a solar system diagram, please contact Alex Marron at (954) 764-9327 or  amarron@alternateenergycompany.com with your request (Se habla español). Alex is our dedicated team member and renewable energy specialist with multiple years of experience in Caribbean based Solar PV System installations.
You can also contact us below via our web form or call directly to (954) 358-0501 from Monday – Friday 8:30am – 5:30pm EST.
No more feeling of helplessness of not having power for hours or days, we have the perfect solution today!