Resource Information For Renewable Energy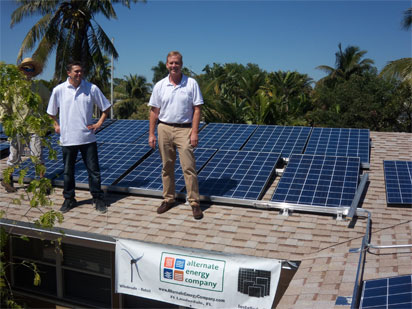 We offer helpful Renewable Energy Resource Information to find out details on incentives offered and how to start using renewable energy technology.
DSIRE – Database of State Incentives for Renewables & Efficiency
Visit DSIRE and find out information on incentives and policies that support renewables and energy efficiency in the United States.
Farenergy.Org – Florida Alliance for Renewable Energy
Is dedicated to creating jobs and economic benefit to the citizens of Florida by the use of renewable energy through effective public policy.
Awea.Org – Wind Energy Siting Handbook
To learn technical information and useful tools in siting wind energy projects and assessing potential impacts.
Download the Wind Energy Siting Handbook from awea.org
Wind Map of USA
Want to view the current wind flowing over the US?
Go to hint.fm and check out this cool wind map!
Solar Map of USA – Energy.Gov
Find out the Solar Energy Potential throughout the United States and view the solar map from Energy.Gov.
Coronado Solar – CoronadoSolar.Net
Coronado Solar is an installation company of PV solar electric systems & solar thermal throughout the state of Florida.
FARE – The Florida Alliance for Renewable Energy
If  you are a Florida resident and want information on economic benefits by the use of renewable energy, please visit FARE to find out more.
FSEC – Florida Solar Energy Center
Visit the Florida Solar Energy Center to check out information regarding Solar Energy Consumers, Education and Research.